More Instructors to be Announced Soon!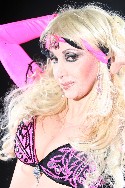 Fahtiem
Fahtiem is a Multi-Award Winning Choreographer, Master Instructor, and International Superstar Performer, highly renowned in the world of Middle Eastern Dance, for her magical style and elegance. Fahtiem has many publication, T.V. and video credits. She is the director and choreographer of the Sultan's Delites. She produces and is the director of an annual, convention and highly acclaimed stage production "Oasis Dance Magic". Fahtiem has produced 5 CDs: in which she does the vocals. Fahtiem's new DVD series "BellyDance Bootcamp with Fahtiem" is shaping up the dance world! Listed in International Who's Who of Professional & Business Women, she is highly recognized in her field. Some of her awards include: International Cultural Diploma of Honor, Woman of the Year . The International Academy of Middle Eastern Dance awards: Dancer of the Year, Entertainer of the Year, Nominated, Choreographer of the Year, Teacher of the Year. Dance Magazine awards: Teacher of the Year, Dancer of the Year. American Academy of Middle Eastern Dance (New York) award: Hall of Fame-Lifetime Achievement, MECDA Hall of Fame.
Fahtiem is in great demand traveling extensively worldwide sharing her vast knowledge and passion for this beautiful art form while maintaining a full teaching schedule in Los Angeles Ca. including collage level dance courses. Fahtiem has been honored to teach and perform globally throughout her career, including Egypt at Ahlan Wa Sahlan Festival,China,UK,Belgium just to name a few.

Email: fahtiem@fahtiem.com Web: www.Fahtiem.com Phone: 626-810-9470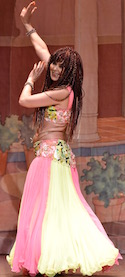 Leila Haddad
Paris (France) based, choreographer, dancer and teacher in Oriental dances, (sharqi, baladi, saidi etc...) and in North African dances (Tunisia, Algeria and Morocco), teaches and performs all over the world in theaters, works on the rehabilitation and recognition of this art form. Classes are given in english, italian, arabic or french.

Email: hadleila@gmail.com Web: www.LeilaHaddad.com Phone: (+33) 06 86 08 68 75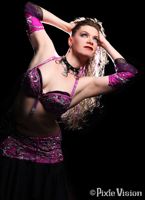 Maia Alexandra
Maia Alexandra is a professional Bellydancer and Fire Entertainer based in Buffalo, New York. With highlights including teaching and performing as a featured guest for Rakkasah Spring Caravan, the Las Vegas Belly Dance Intensive, Art of the Belly Festival, Waking Persephone, and Unmata's Blood Moon Regale, her enchanting and unusual style is beloved by audiences everywhere she entertains. Maia understands that to every skill there is no one "key" to learning. Just as every student is individual, she understands that every student learns differently! Using many different instruction techniques, including visualization, mnemonics, biomechanical breakdown, simple repetition and beyond, she strives in every class to teach you as completely as possible.
Her dance training spans over twenty five years and is extremely diverse, including Ballet, Jazz, Modern, and Hula Hoop as well as her love for Oriental Dance. Along with her dance partner Kadri, she is Co-creator of Darkly Sparkly, a stunning duet driven by mutual respect, chocolate chip cookies, darkwave, and the Muppets.
Maia is a big believer in the power of breath and love in the creation of outstanding soulful dancing.
Email: Maia@maiaalexandra.com Web: www.maiaalexandra.com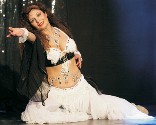 Naheda
Ludwigsstadt, Germany.Master instructor and choreographer for oriental dance... international award winner and event producer, Naheda does it all. Naheda has been active for many years teaching workshops and performing internationally. Naheda has a tremendous amount of knowledge and is a wonderful communicator of the dance. Her tremendous creativity inspires her students to find the special and exceptional in themselves.
Web: http://www.naheda.com/de/startseite.php


Saqra
Saqra (Seattle) is an international instructor & performer, festival producer, vendor, musician, and researcher. Her award-winning choreographies as both a soloist and director of three different dance troupes has led to a long catalog of instructional DVDs available for home study. Saqra is a powerful dance artist and a master instructor. Her fluidity, grace, and technical skill is highlighted by her friendly demeanor and clear joy of the dance. She did not inherit the diva gene and is often heard to say "the day this stops being fun is the day I quit."
Saqra began her Middle Eastern Dance journey in 1977 and travels extensively

Email: saqra@saqra.net Web: www.Saqra.net Phone: 253-813-8580

Tim Bolling

Based in the San Francisco bay area, Tim Bolling is a percussionist and drum set player who has played diverse musical styles across North America. He is known as a "dancer's drummer" for his focus on playing to a dancer's particular style and ability, and has played for top belly dancers and dance events in California for almost 20 years. Tim enjoys teaching music and drumming workshops for both drummers and dancers, as well as playing for dance classes. He has studied with Mary Ellen Donald, Glen Velez, Susu Pampanin, and Reda Darwish. Prominent dance artists Tim has played with include Solace, RebbeSoul, Tim Rayborn, Suhaila Salimpour's Bal Anat, Flowers of the Nile, Jallaledin Takesh, and Cascada. Tim currently enjoys playing with the talented Light Rain, Pangia, Al'Azifoon, Silk Road Caravan, Paul Ohanesian, Nader Shahin, and Var Daghdevirian.
Email: timbolling@hotmail.com Web: www.timbolling.com Phone: 510-706-3085