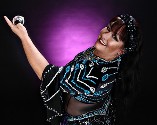 Denise Mannion
Denise is the Director of Troupe Mandala, California, she has danced, taught workshops & played keyboards & zils all over the West Coast, as well as the East coast.

Email: pangiaraks@yahoo.com Web: www.PangiaRaks.com Phone: 530-938-2503



Fatima Al Wahid
Fatima is a prominent Middle Eastern Dance instructor, sponsor and vendor. Born In Africa, Fatima has always had the dance in her heart, being introduced to the dance by her father's native home, the Sudan. After over 20 years in the medical field, Fatima retired and decided to teach, travel and vend. She planted her feet in Sacramento and opened Fatima's Bazaar & Cultural Dance Studio. Fatima travels the world teaching and vending, and manages to spread heartfelt feeling for the dance wherever she goes.
Email: fatima@fatimasbazaar.com Web: www.FatimasBazaar.com Phone: 916-482-3568



Saqra
Saqra (Seattle) is an international instructor & performer, festival producer, vendor, musician, and researcher. Her award-winning choreographies as both a soloist and director of three different dance troupes has led to a long catalog of instructional DVDs available for home study. Saqra is a powerful dance artist and a master instructor. Her fluidity, grace, and technical skill is highlighted by her friendly demeanor and clear joy of the dance. She did not inherit the diva gene and is often heard to say "the day this stops being fun is the day I quit."
Saqra began her Middle Eastern Dance journey in 1977 and travels extensively

Email: saqra@saqra.net Web: www.Saqra.net Phone: 253-813-8580
Sindonia Om Dunia
Sidonia Om Dunia is director/choreographer for Beli Danse Academie and Raks Al Dunia in Boise Idaho. She began performing when she was four and is celebrating her 35th year of teaching. Her multi-cultural life and dance experiences have created Sidonia's Classic Style with a contemporary twist. She is a popular workshop instructor because of her ability to clearly explain concepts and techniques for all levels along with the roots of traditional Mid-eastern dance.
"After all these years, I am still teaching because I feel it is an excellent way to reach out to all women who want a little fun in their lives. The art of "Beli Danse" reminds us that there is no such thing as being too old, too fat, or without rhythm. We are all beautiful, diverse, and when given a chance we can find joy in movement at any age."
"It is a pleasure to share my knowledge of the dance with others. As a teacher I enjoy the sister-hood which seems to bloom between all levels of dancers and musicians. The gift received from guiding and watching a student grow from shy novice to confident performer is very special. As a dancer I become one with the music and I am transported to a private internal place."
2013 Golden Girl Winner BDUSA - 2011 Peoples Choice 1st place and 2nd Place Seven Veils - 2008 Goddess Winner Belly Dancer USA - 2006 Double Crown Masters Winner -2006 Headliner 2nd Place Award Wiggles of the West - 2001 Queen of the Dance
Jareeda Int'l Mag July/August 2008 - Cover & Interview - Community Education Spotlighted Instructor 2007 -Idaho Statesman "The Insider" Interview 2006 - "Video News" story featuring Sidonia, 1998

Email: beli_babe@hotmail.com